Ce tout petit bijou est une machine à tout faire hors normes!
Un ampli (2x60Watts 8Ohm, 2x120Watts 4Ohm), un streamer et un correcteur automatique d'acoustique.
Il est fourni avec micro de mesure, pied micro, câble…
Les produits de Peter Lyngdorf sont excellents, innovateurs, différents de tous les autres…
Voici un amplificateur-streamer-correcteur acoustique extraordinaire!
Ce TOUT PETIT ampli numérique 2×60 Watts (8Ohm) et 2×120 Watts (4Ohm) sonne divinement bien. Le streamer UPnP est compatible ROON, Airplay, Spotify Connect, Tidal Connect, Radio internet…
Le TDAI-1120 a remporté une énorme quantité de suffrages dans les Tests et concours de produits audio. (Liste en bas de page)
Sans nul doute la particularité marquante du TDAI-1120 est son système de correction acoustique ROOM PERFECT.
Qu'on y connecte 2 enceintes colonnes ou encore 2 enceintes compactes et 1 ou 2 caissons de graves actifs, le système ROOM PERFECT permet de calibrer le système en fonction de la pièce d'écoute et de votre canapé ou siège préféré. Cette correction va bien au-delà des systèmes proposés par bien des fabricants, qu'ils s'appellent AUDYSSEY ou DIRAC ou d'autres MCACC…
Ce système de correction est à notre avis le SEUL côte à côte avec TRINNOV qui peut prétendre corriger SANS dénaturer le son musical de votre ensemble.
Nous le conseillons avec les enceintes et subwoofers de LYNGDORF Audio mais aussi avec les enceintes compactes sur pied de BOWERS & WILKINS t.q. les  606AE, 705S2 et 705 Signature, combinés au formidables Subwoofers ASW610XP, DB4S, DB3D, DB2D, mais aussi aux enceintes compactes de chez PMC Speakers, QAcoustics, Harbeth, aux Subwoofers REL etc….
2 enceintes compactes de grande qualité et 1 ou 2 caissons de grave, combinés au talent de cet ampli-correcteur, offrent des résultats à l'écoute qui dépassent de très loin ce qu'on peut obtenir avec un ampli classique et des grandes enceintes colonne, surtout quand, comme c'est le cas de la plupart des mélomanes, le salon n'offre PAS la possibilité de placer les enceintes là, où elles DEVRAIENT se trouver pour obtenir la meilleure qualité sonore.
Consultez-nous pour un conseil acoustique personnalisé!
LYNGDORF :
TDAI-1120
Lyngdorf TDAI-1120 provides the ultimate in flexibility. Its small design footprint allows it to be easily placed anywhere in the home, and the vast feature set offers a great variety of streaming options. All the user-friendly features you could ask for and paired with Lyngdorf Audio's world-famous digital amplification technology and patented RoomPerfect™ room correction for the ultimate listening experience.
Connecting the TDAI-1120 to the HDMI (ARC) output of a television, will turn the TDAI-1120 into the best sound system possible for your movies. With CEC and eARC lip-sync functionality the TDAI-1120 can connect perfectly with tomorrows televisions and receive the on-off and volume commands from your television remote.
New world of streaming
Connect the TDAI-1120 to your WiFi and enjoy all the integrated streaming services.
Chromecast built-in
Spotify® Connect
Roon Ready
AirPlay2
Bluetooth connectivity
Internet Radio (vTuner)
Network/local file playback
The TDAI-1120 accepts all your media interfaces and holds itself an advanced media player of the highest quality. Through the network or via the USB connectors, you can access your library of music through the DLNA/ UPnP enabled player. All can intuitively be controlled with your smart phone, tablet, or computer.
The ultimate experience
The TDAI-1120 ships complete with RoomPerfect™, providing the ultimate listening experience. With RoomPerfect™, the TDAI-1120 delivers a perfect musical experience in all living rooms. Without the need for extensive acoustic treatment, you get a sound system with optimal frequency response, seamless level alignment, and bass management that perfectly integrates the speakers and subwoofers.
Control the TDAI-1120 with an app
The "Lyngdorf Remote" app automatically discovers the TDAI-1120 connected to your local network, and you will be able to adjust all the basic functions like input selection and volume level from your handheld device. The built-in media player can be controlled directly, and you can access music files stored on pen drives connected to the Lyngdorf TDAI-1120 as well as search all files stored on your local hard drives. Swiping left and right gives you access to cover art as well as informing you of the signal resolution.
"Lyngdorf Remote" app is available for free download from both IOS and Android.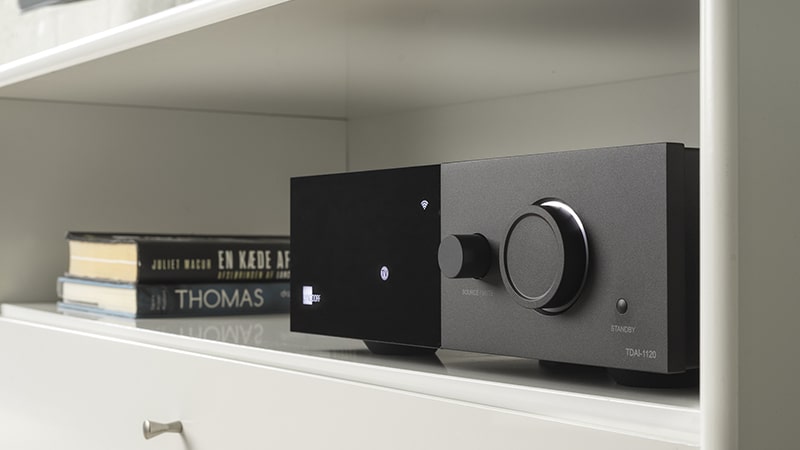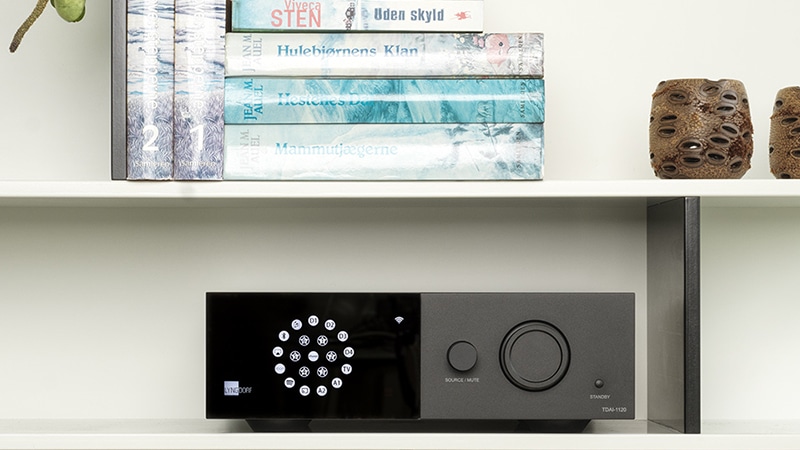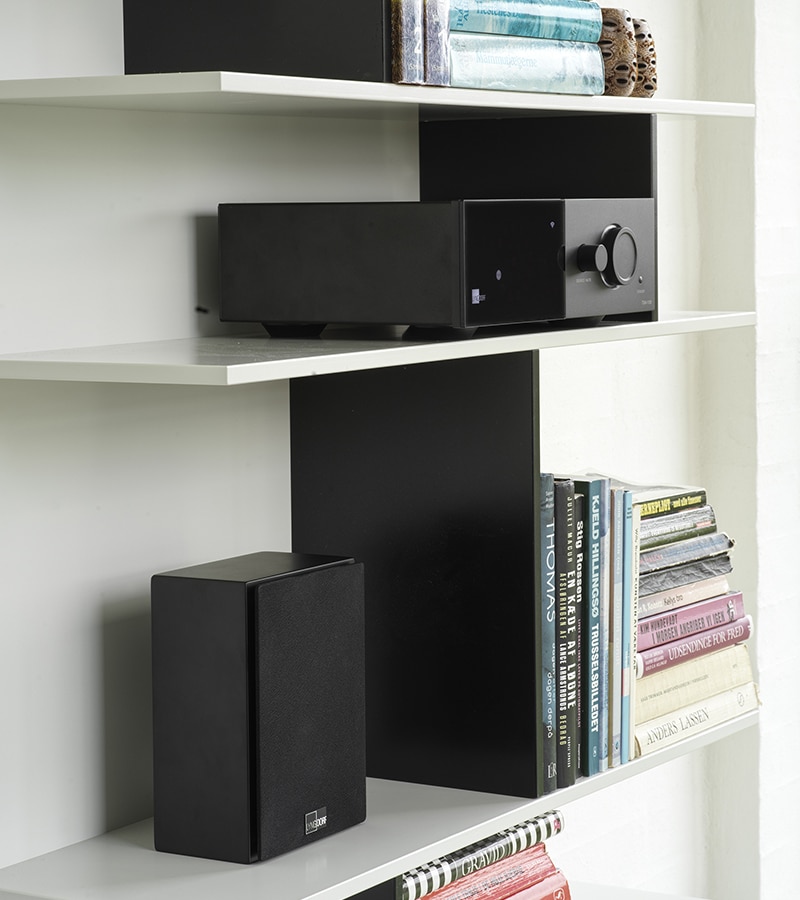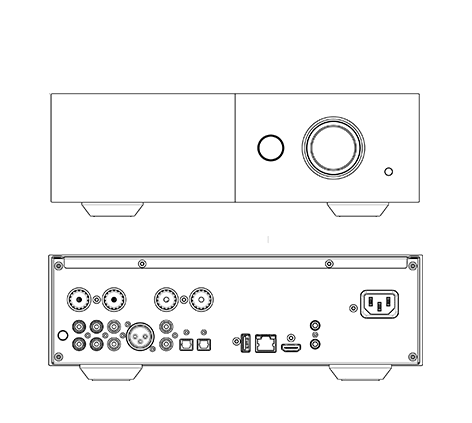 Specifications
Description: 2-channel streaming amplifier
Power rating: 2 x 120 W RMS @ 4Ohm / 2 x 60 W RMS @ 8Ohm
Max output current: 30A
Audio specifications: Frequency Response: ±0,5dB from 20 to 20,000 Hz, Total Harmonic Distortion: 0.05% max from 20 to 20,000 Hz THD-N 1w/8ohm 0,04%, THD-N 1w/4ohm 0,04%
Digital inputs (Asynchronous): 2 x Coaxial (≤192kHz/24bit) 2 x Optical (≤96 kHz/24bit) 1 x HDMI eARC (≤24 bit/192 kHz)
Analog inputs: 1 x Phono Single Ended RCA (RIAA / 47kOhm 100pF), 1 x Analog Single Ended RCA (Max level: 4.0V = 0dBFS) 1 x Microphone input (XLR) for RoomPerfect™ calibration
Analog output: 1 x Stereo Analog RCA (75ohm-Max output level 4 Vrms)
EQ: RoomPerfect™, Pre-Equalizer, ICC, 32 x adjustable voicings holding ≤8 filters with adjustable gain and Q
Media player: Internet Radio (vTuner), Spotify Connect, Roon Ready, Chromecast built-in, DLNA Support (uPnP/see DLNA formats), AirPlay2, Bluetooth, Local file playback (USB)
Wireless connections: Bluetooth connectivity, Wi-Fi (802.11 n)
Interfaces: Intuitive input selector, Web-interface for setup and media player, Remote application for IOS and Android, IP control, CEC (HDMI), 1 x trigger input, 1 x trigger output, 1 x RJ45 Ethernet LAN connector, 1 x USB connectors (Type A)
Remote control: Infrared
Accessories included: RoomPerfect™ microphone, Microphone stand, Microphone cable
Optional accessory: IR remote control, rack mounting kit
Placement options: Freestanding
Dimensions (H x W x D): 10.1 x 30 x 26 cm (including connectors), 3.98 x 11.8 x 10.3 inches (including connectors)
Weight: 3,3 kg / 7.3 lb
Finish: Anodized aluminum, matte black
Downloads:
External control manual
Technical drawings
Owner's manual
Control4 Driver
Latest software
TDAI voicings
CI fact sheet
Brochure
Pictures