530 System
Impeccable sound & style, tailored for you.
Exquisite tailoring and precision engineering come together perfectly in this stylish and customisable music system.
Selekt DSM: Classic Hub & 530 Speakers 21.330€
Selekt DSM: Edition Hub & 530 Speakers 27.240€
The more powerful of the two Series 5 offerings, the 530 System features speakers with Exakt electronics and on-board power amps, combined with incredible Isobarik bass. Together with the Selekt System Hub, the 530 system will stream all your digital music in stunning Linn quality, while also letting you connect all your other music sources.
530 Speakers
With custom-designed drive units and Isobarik bass system, the 530 Speakers let you experience incredible musical accuracy with an energy that really lets the music flow.
Customise the look and place them where they fit best in your room – Space Optimisation+ takes care of optimising the sound for your room's characteristics and chosen speaker location.
Power and intelligence built-in
Linn's innovative integrated speakers have power and intelligence built-in. A specially designed module, suspension-mounted on the back of each speaker, houses the powerful amps and Exakt electronics that optimise performance. Now you don't need lots of hi-fi separates to make great sound.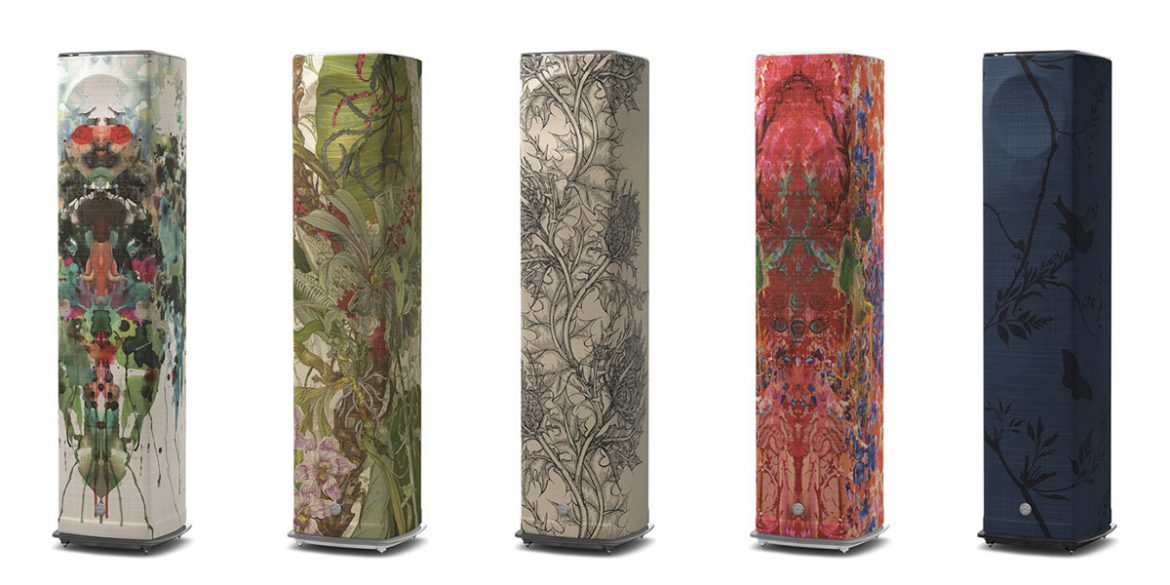 Selekt System Hub
Stream all your favourite music from the cloud or over your own home network and hear it in exceptional quality. Selekt System Hub will handle everything from Studio Master downloads to TIDAL streaming or internet radio and includes all the inputs you'll need to connect all your music sources, from TV to turntable, and make them sound better too.
Every element of Selekt System Hub is precision engineered for the most authentic musical performance possible. Designed to be seen as well as heard, the combination of a jewel-like dial and customisable smart buttons will revolutionise your interaction with digital music.
Perfect streaming to your speakers
Featuring Linn's streaming technology and a range of inputs to connect anything in your living room, every musical performance is perfectly transmitted to the speakers using Linn's Exakt Link lossless connection.
Selekt System Hub is designed for use in a Linn system with Exakt technology and is the perfect choice for those seeking an all-Linn performance solution from the outset.
Technical Specifications
Customisable floorstanding speaker system with Exakt technology and Selekt electronics
| | |
| --- | --- |
| Features | |
| Phono Stage | MM/MC (configurable) |
| Surround Compatible | Yes |
| Exakt | Yes |
| Space Optimisation | Space Optimisation+ |
| | |
| --- | --- |
| System Hub Specification | |
| Audio Formats | FLAC, Apple Lossless, WAV, MP3, WMA (except lossless), AIFF, AAC, OGG |
| Resolution | Up to 24-bit 384 kHz |
| Integrated Services | TIDAL, Qobuz, Spotify Connect, Deezer, Airplay 2, Roon, TuneIn, Calm Radio |
| HDMI Spec | HDMI ARC (HDMI 2.0) supports; 4K @ 60 Hz, HDCP 2;2; HDR |
| Optional HDMI Module Upgrade | x4 HDMI In + x1 HDMI Out (doubles as eARC) |
| Ethernet | x1 |
| Exakt Link | x2 |
| Construction | Machined Aluminium |
| | |
| --- | --- |
| Inputs | |
| WiFi | Yes |
| Bluetooth | Yes |
| HDMI ARC | x1 |
| Toslink | x2 |
| SPDIF | x2 (x1 configurable in/out) |
| USB Audio Class 2 Endpoint | x1 |
| Line Level Phono (RCA) | x1 |
| MM Phono (RCA) | x1 |
| MC Phono (RCA) | x1 |
| Optional HDMI Module Upgrade | x4 HDMI In + x1 HDMI Out (doubles as eARC) |
| | |
| --- | --- |
| Outputs | |
| HDMI 2.0 (optional upgrade) | x1 |
| Exakt Link | x2 |
| SPDIF (configurable in/out) | x1 |
| RCA Subwoofer Out | x1 (Edition Hub only) |
| 1/4″ Headphone Jack | x1 (Edition Hub only) |
| | |
| --- | --- |
| 530 Speaker Specification | |
| Speaker Type | 3-way floorstander |
| Crossover | Exakt digital |
| On-board Amps | 3x 100 W |
| Bass System | Isobarik |
| | |
| --- | --- |
| Connections | |
| Exakt Link | x2 |
| Banana/Spade | None |
| | |
| --- | --- |
| Drive Units | |
| Tweeter | Silk dome with anti-resonant chamber |
| Midrange | Doped 2-layer slice |
| Bass | 2x Isobarik |
| | |
| --- | --- |
| Finishes | |
| Selekt DSM: Classic Hub | Black |
| Selekt DSM: Edition Hub | Silver or Black anodised |
| Standard Fabrik | Aubergine, Black, Blueberry, Butterscotch, Paprika, Vanilla |
| Special Fabrik – Harris Tweed | Barley, Granite, Grouse, Peat, Spruce |
| Special Fabrik – Timorous Beasties | Birdbranch Blueberry, Birdbranch Butterscotch, Napoleon Bee Blueberry, Napoleon Bee Paprika, Thistle Aubergine, Thistle Butterscotch |
| Speaker Stand & Top Plate | Black, White |
| | |
| --- | --- |
| Dimensions | |
| Selekt DSM: Classic Hub | |
| | |
| Width | 350 mm |
| Height | 113 mm |
| Depth | 350 mm |
| Weight | 7.2 kg |
| | |
| Selekt DSM: Edition Hub | |
| | |
| Width | 355 mm |
| Height | 119 mm |
| Depth | 355 mm |
| Weight | 9.5 kg |
| | |
| 530 Speakers | |
| | |
| Cabinet Volume | 30 litres |
| Width | 232 mm |
| Height | 954 mm |
| Depth | 325 mm |
| Weight | 30 kg |