Your first choice
Choose Majik LP12 MM, featuring our high-performance Adikt MM cartridge; or opt for your very first upgrade right at the point of purchase, by choosing Majik LP12 MC and its accomplished Koil MC cartridge. Koil is a superb first step onto the ladder of premium MC cartridges.
Majik LP12
Rediscover your vinyl
Take the first step into high performance vinyl playback. And close the door behind you, you won't be turning back. Experience the iconic Sondek LP12 in an affordable package, powered by carefully selected Linn-engineered components.
Majik LP12 MM 4.335 EUR
Complete turntable, Majik specification with Adikt moving magnet cartridge
Majik LP12 MC 4.585 EUR
Complete turntable, Majik specification with Koil moving coil cartridge
Majik LP12 includes our latest sandwich-construction aluminium sub-chassis, patented single point Karousel bearing, and internal low noise power supply. Linn's Krane tonearm and Adikt moving magnet cartridge complete the deck.
Connect directly to Majik DSM, with its built-in phono stage, for a simple introduction to both high performance vinyl and streaming.

Relight your fire.
Let Majik LP12 open the door to a world in which your favourite vinyl sounds both as it was and as it's never been before.
Available with Majik LP12
The greatest orchestras rely on the power of the collective. Majik LP12 features a carefully curated collection of components from across the Linn range, and because it's modular, you can update it with every new upgrade we release.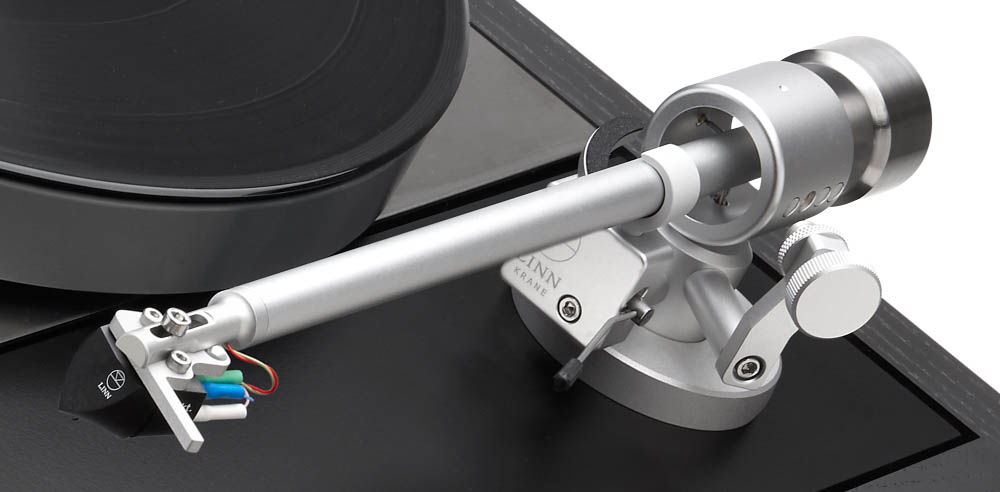 Technical Specifications
Majik LP12 comprises:
Sondek LP12 with Karousel bearing
Majik Sub-chassis aluminium sub-chassis with mounting for laminate armboard
Internal Majik LP12 power supply
Solid Base aluminium base board
Krane aluminium and stainless steel tonearm with low friction & rotational mass bearing design
Adikt moving-magnet (MM) cartridge
45 rpm adaptor
| | |
| --- | --- |
| Plinth Options | |
| Style | Standard or fluted |
| Standard Finishes | Oak, Cherry, Black Ash, Rosenut, Walnut |
| Special Finishes | Piano Black, High Gloss White or match any colour of your choice (high gloss) |
| | |
| --- | --- |
| Specification | |
| Speed | 33⅓ rpm single speed motor (45 rpm supported using included adaptor) |
| Motor Type | 110V Synchronous AC motor |
| | |
| --- | --- |
| Dimensions | |
| Width | 445 mm |
| Height | 140 mm |
| Depth | 356 mm |