Pro-Ject RPM 5 Carbon 2M Bronze
Manual turntable with 9" Evo tonearm
Outboard AC Motor & Acrylic Platter
Technical Specifications
| | |
| --- | --- |
| Speed | 33, 45 (manual speed change) |
| Drive principle | Belt drive |
| Platter | 300 mm acrylic |
| Mains bearing | Stainless steel axle with ceramic ball |
| Speed drift | 33: +/- 0.12% I 45: +/- 0.10% |
| Wow & flutter | 33: +/- 0.17% I 45: +/- 0.08% |
| Signal to noise | 73dB |
| Tonearm | 9" EVO carbon |
| Effective arm length | 230 mm |
| Effective arm mass | 8 g |
| Overhang | 18 mm |
| Tracking force | 0 – 25 mN |
| Included accessories | 15 volts DC / 500 mA power supply |
| Power connection | 110/240 Volt – 50 or 60 Hz |
| Power consumption | 5 watt max / < 0,5 watt standby |
| Dimensions | 430 x 150 x 323 mm (WxHxD) |
| Weight | 8.0 kg net |
Downloads
Reviews
stereoplay reviews the RPM 5 Carbon
DE, 02.2019
Verdict: A neat yet powerful as well as good sounding drive topped with an outstanding MC cartridge. This combination performs effortlessly sensible. The turntable with an excellent main platter bearing contributes calm to music. With this turntable you get high-class sound for a still moderate amount of money.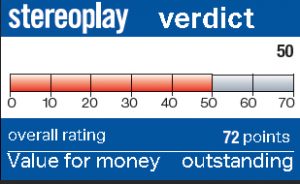 ---
Audio reviews the RPM 5 Carbon
DE, 06.2017
An excellent and affordable combination.
Sound rating: 95 points
Value for money: outstanding
Features: good
Operation: good
Build Quality: very good
---
Audio Test reviews the RPM 5 Carbon
DE, 03. 2017
A real eye-catcher in every living room.
Its great smoothness and insensitivity to all resonances make it a high-end device in a class of its own.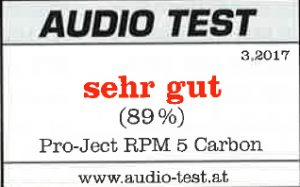 RPM 5 Carbon utilises a radical concept with a lot of innovations, that originate from its big brother RPM 9 Carbon: A low resonance chassis holds a newly designed inverted platter bearing with ceramic ball for further reduced rumble. The acoustically inert platter is made from acrylic. An outboard 15V AC motor is smoothly driven using an ultra-precision AC generator with DC power supply for further enhanced speed stability. The classy 9" Evo tonearm, which is made from carbon fibre is suitable for any high-quality MM or MC cartridge. A TPE-damped counterweight eliminates unwanted resonances.
The RPM 5 Carbon is available with or without Ortofon 2M-Silver cartridge. A super shielded, semi-symmetrical, low-capacitance Pro-Ject Connect it E phono cable is included.
In the box:
RPM 5 Carbon (with or without Ortofon 2M-Silver)
Connect it E Phono Cable
Record clamp
Adapter for 7" singles
Power supply