Our gateway server with all the full benefits of innuOS, now with improved connectivity and an upgraded path for even greater flexibility. Ideal for simple integration into multi-room systems or for those making the first step to a dedicated audio server.
⦿ CD Ripper, NAS and Streamer
⦿ Compact design with quiet, fanless operation
⦿ Includes both analogue and digital outputs
⦿ Can be used as Roon Core (Optional)
⦿ Custom audio treated components
⦿ Upgradeable with Linear Power Supply
ZENmini MK3
1 TB HDD : 1299 €      1 TB SSD : 1699 €
2 TB HDD : 1399 €      2 TB SSD : 1899 €
4 TB HDD : 1599 €      4 TB SSD : 2199 €
Looking for a tidy solution for all your CDs and the files laying around on the computer? Need an easy way to stream and listen to all your favourite music? Now there's a simple way to store, manage and play all of it: the ZENmini.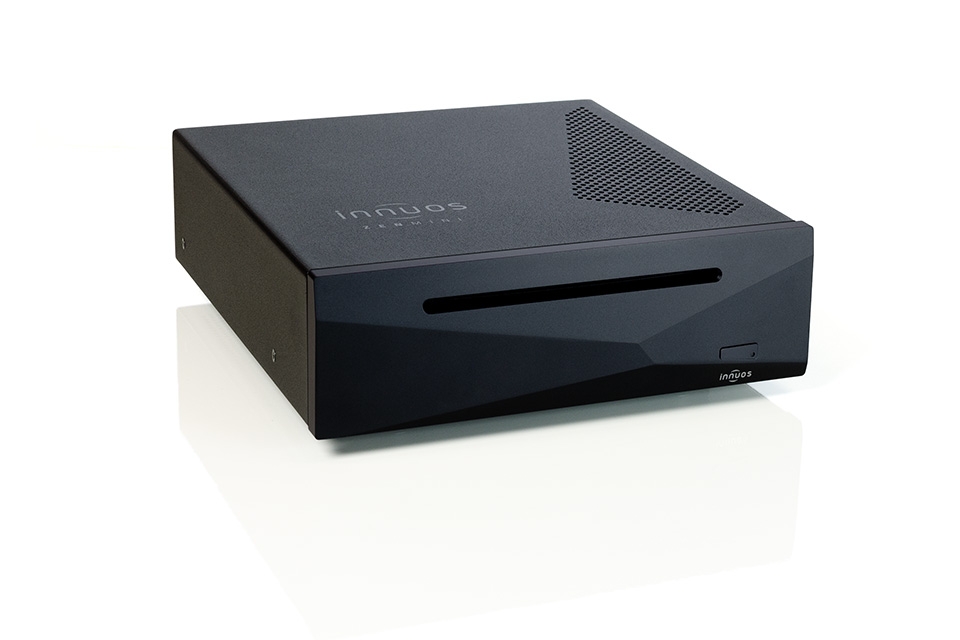 With its compact footprint, low-power efficiency, quiet operation and range of connectivity, the ZENmini is a convenient and discreet music server for all your Digital Audio needs – from CD ripping to purchased downloads, Internet Radio to Spotify Connect.
The ZENmini offers more than just casual usage. Floating optical and storage drives paired with a custom motherboard and premium components offer far greater musical performance than conventional computers and NAS drives.
03.
Perfect CD Player replacement
Featuring additional Optical and Coaxial digital outputs as well has a high-resolution 24bit/192KHz Digital to Analog Converter (DAC). This means you can now connect directly to all your favourite devices such as Soundbars, AV Receivers or Integrated Amplifiers the easy way.
Using our own exclusive innuOS operating system, our servers are configured and optimised from the ground up for the perfect balance of performance and simplicity. Control your library from the comfort of your tablet or smartphone – no computer required.
Specifications
AUDIO OUTPUTS
Digital Output USB 2.0 supporting USB Audio Class 2, DoP, Native DSD and MQA
Coaxial S/PDIF up to 24bit/192KHz
Optical S/PDIF up to 24bit/192KHz
Analogue Output RCA Analogue up to 24bit/192KHz
CONNECTIVITY
Ethernet 2 x rear panel RJ45 – Bridged Gigabit Ethernet
USB 4x USB 3.0
FORMATS
CD Formats Red Book
Disc Compatibility CD, CD-R, CD-RW
Audio format for stored CDs FLAC (zero compression), WAV
Audio Formats Supported for streaming and playing WAV, AIFF, FLAC, ALAC, AAC, MP3, MQA on supported DACs
SAMPLE RATES
Sample Rates 44.1kHz, 48kHz, 88.2kHz, 96kHz, 176.4KHz. 192kHz, 352.8KHz, 384KHz , up to DSD128 via DoP, Native DSD on selected DACs
Bit Depths 16bit, 24
USER CONTOL INTERFACES
Web Interface Web Browsers from iOS, Android (4.0 and up) or up-to-date Windows and OS X browsers
Mobile App for iPhone/iPad, Android and Windows 10
HARDWARE
CD/DVD drive TEAC Slot-loading drive
Storage 1TB, 2TB, 4TB WD Red HDD
1TB, 2TB, 4TB SSD (S Model only)
CPU Intel Quad Core N4200
Memory 4GB DDR3
8GB DDR3 (S Model only
STREAMING AND CD STORAGE
UPnP/DLNA Integrated UPnP Server
Streaming Services Qobuz, Tidal, Radio Paradise, Internet Radio
Roon Compatibility Roon Core and Roon Endpoint
Average CD Storage Time 5 minutes
CD Metadata FreeDB, MusicBrainz, Discogs, GD3
Compatible Music Systems Sonos Multi-room Wireless Music System
DLNA/UPnP compatible streamers
USB DACs complying to USB Audio Class 2
USB DACs supporting DSD over DoP protocol
Selected USB DACs supporting Native DSD
REQUIREMENTS
Network Internet connection to access album metadata when storing CDs, Internet Radio, Streaming Services and software updates
Network router with at least one available ethernet port
Premium subscription required for some streaming services such as Spotify, Qobuz and Tidal
POWER
Mains Supply Low ripple Power Adapter, 12V 5A, CEC Level V efficiency
Power Consumption 10W when idle, 15W peak
PHYSICAL
Dimensions 215mm x 245mm x 75mm (W x D x H)
Weight 4,5 Kg
In the box Innuos ZENmini Mk3 1TB Music Server
AC/DC Power Adapter
Mains Cable
2m Ethernet Cable
Getting Started leaflet