PERFORMANCE
---
Loading a speaker driver into a "small room" makes it extremely sensitive to its environment. Our engineers' 40 years of expertise and know-how led to specific work being undertaken on the vents, so as not to limit the frequency response in the low-range and thus properly manage the air flow. With Elegia, there is no resonance to disturb the listening experience. And the closed earpads round off the remarkable soundproofing.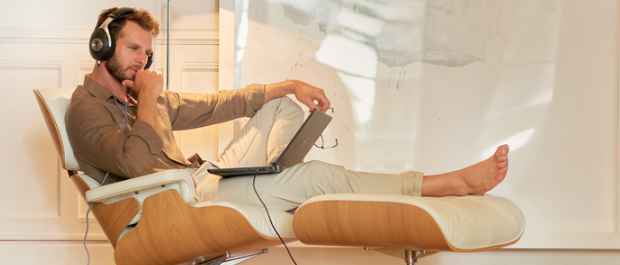 EXCLUSIVE SPEAKER DRIVERS
---
Elegia is equipped with a new generation of electrodynamic transducers which provide great elongation, at the heart of extremely dynamic sound, and a linear, extended frequency response of 23 kHz. The geometry of the new, half-roll NBR surround guarantees a lightweight moving part that is always under control, even at the lowest frequencies and the highest volumes. The sound reproduction is incredibly precise. And thanks to the "M"-shape inverted dome and its larger emissive surface, listening becomes sensational.
RUNNING-IN PERIOD
These headphones require a running-in period in order to operate at their best.
They will run themselves in naturally after several hours of listening time.
If you want to speed up the process, we recommend playing very bassy music through them for at least 24 hours at a relatively high volume.
This will stabilise the speaker drivers and allow you to get the very best out of your headphones.
DESIGN
COMFORT AND ELEGANCE
---
With its well-mastered geometry, Elegia's headband moulds perfectly to the head, providing optimal grip for on-the-go use. The 20mm memory foam microfibre earpads as well as the yoke, which also moulds perfectly to the wearer's face shape, are both key contributors to the headphones' supreme comfort. They are also incredibly good-looking: noble materials such as leather, solid aluminium and microfibre finish off Elegia to a tee.
ACCESSORIES INCLUDED
---
• A 3.5mm stereo jack adapter
• A 3.5mm to 6.35mm jack adapter
• A carefully finished, hard-shell carrying case. Thermoformed in the shape of the headphones, it protects, stores and carries Elegia with peace of mind.
---