High-grade SA-CD/CD drive
MDSD type D/A converter using eight parallel devices
Support for playback of data discs (CD-R/-RW, DVD-R/-RW/+R/+RW)
Direct Balanced Filter with separate line and balanced signal paths
HS-LINK and USB digital interfaces
Transport outputs and digital inputs allow insertion of DG-58 into signal path for sound field correction
Phase selector for balanced outputs
Numeric indication of sampling frequency and quantization bits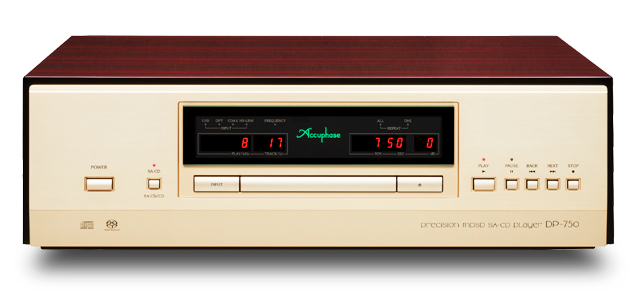 Quiet and ultra-smooth disc loading mechanism combined with a high-rigidity, high-precision SA-CD/CD drive extracts the full scope of the recorded information. The innovative MDSD (Multiple Double Speed DSD) D/A converter comprises eight MDS++ devices driven in parallel and a moving average filter to recreate an analog signal of stunning purity. The versatile array of transport outputs and digital inputs enables connection of a voicing equalizer or other equipment in the digital domain. Harnessing the latest technology in a masterful ensemble, the DP-750 goes straight to the heart of the music.