LIVING LIKE A RAINBOW album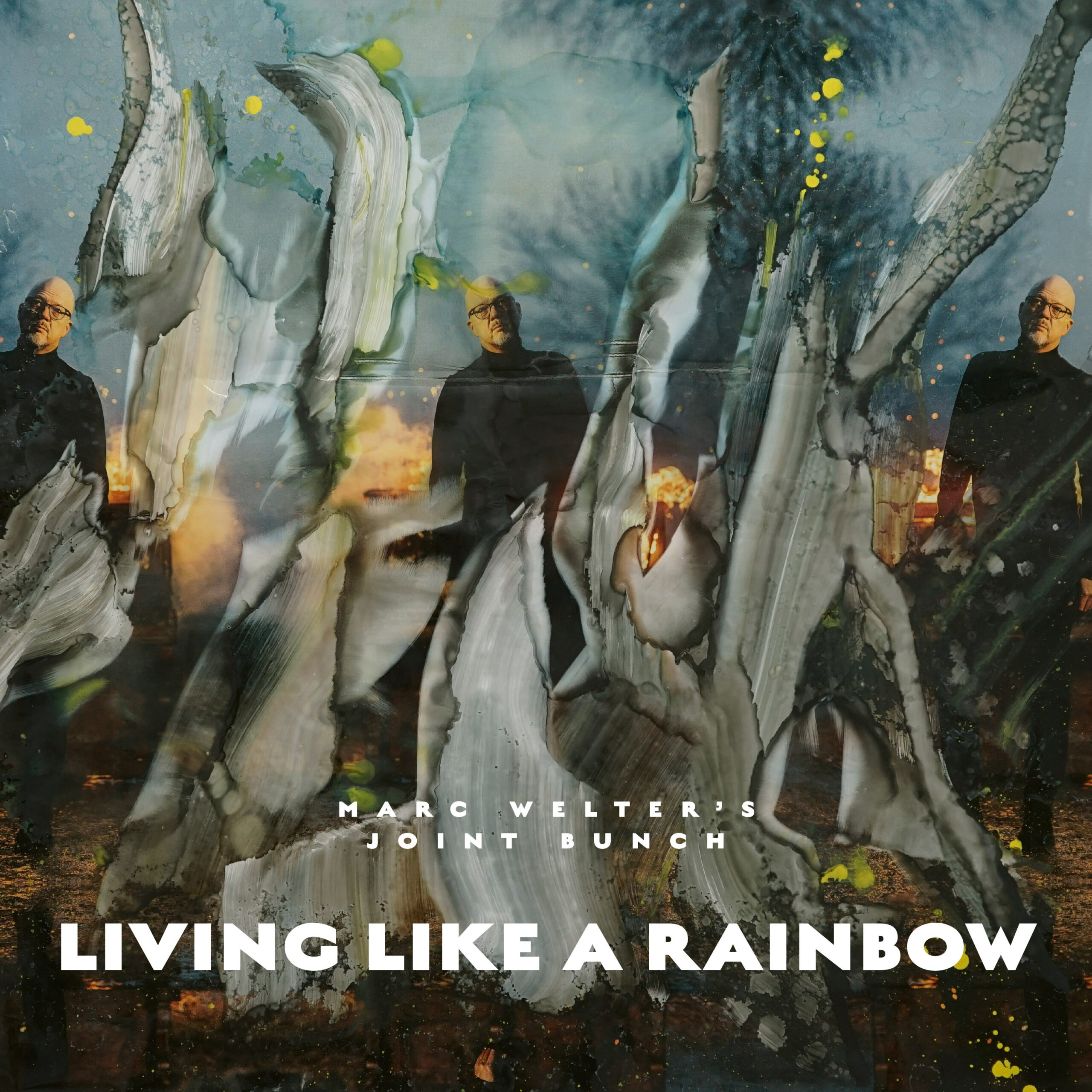 L'album de notre collaborateur Marc Welter
Ca lui a pris 5 ans pour enregistrer cet projet mammouth, ensemble avec plus de 30 musiciens professionnels luxembourgeois, l'album est enfin "in the box" et commercialisé.
14 compositions originales, presque tout a été enregistré avec de VRAIS instruments.
Voici le lien vers le site de la ROCKHAL ou l'album est présenté le 13 Septembre 2022 https://rockhal.lu/shows/marc-welters-joint-bunch/
Il est édité en 2 versions : Vinyle, double album gatefold avec 2 disques 180 grammes transparents et en CD Digipack 4 volets. Dans les 2 cas il y a un booklet avec les textes et les musiciens qui ont participé à chaque morceau.
Le 13 Septembre, jour du concert, l'album sera également disponible en streaming sur toutes les plateformes et bien évidemment en version AUDIOPHILE 24 Bit 96 Khz sur Qobuz et Tidal MQA.
L'extraordinaire Artwork pour cet album a été créé par les artistes Eric Mangen et Rick Tonizzo
Voici un extrait de la Bio de Marc sur le site de JOINT BUNCH https://www.jointbunch.com/
A LITTLE BIT ABOUT MARC WELTER AND HIS "JOINT BUNCH"
Marc was born on 5TH October 1967 into a family of musicians (his father was a professional viola player in the Orchestre Philharmonique de Luxembourg (OPL) and choir conductor, his mother a life-long member of a choir) and started learning to play the piano at the age of 3. He stopped studying music at the age of 15, became a DJ and began touring around Luxembourg for a few years with "The Party Team"…
It was during this time that he began composing his own songs and, at the age of 17-18 he made a first studio recording consisting of 2 songs for a 45-rpm-single, which was released in 1989. Both songs did well in the Luxembourgish top 10. The band was called "Al'n Smacks", Smacks being Marc's DJ name in the 80's and Al standing for Al Ginter, the percussionist with whom he started the project.
Shortly after Marc stopped making music, as he felt it to be incompatible with his private and professional life at that time. He got married, had children, got a job and thought: I'll do it later! Well… later is NOW!
Over all those years, Marc never stopped composing and singing at home, but also never released any of his music and didn't play it outside his living room. 25 years went by and he ended up being single again. He bought a computer, instruments, and a microphone and started re-arranging all his songs as demos. He began searching for musicians in order to play his music live… a difficult task! It took him a few years, hundreds of hours of work on his computer and many sleepless nights… until…
MARC FINALLY MANAGED TO FIND THE "RIGHT" GUYS. ALL OF THEM ARE YOUNG, HIGHLY TALENTED MUSICIANS.
MARC WELTER'S JOINT BUNCH WAS BORN.
During the second half of 2015, 2016 and 2017, Marc Welter's JOINT BUNCH have been playing gigs in music-pubs, restaurants and bars throughout Luxembourg and participated at "ROCK UM KNUEDLER", "FETE DE LA MUSIQUE DUDELANGE", "NATIONAL CELEBRATION DAY" Luxembourg city as well as "MONDORFFFETE" festivals and decided in 2016 to start recording an Album with Marc's compositions.
After doing some crowdfunding, the recordings started mid 2017.
The music can be called melodic "pop-rock" as Marc's roots lay clearly in classical music and musicians he's a big fan of like Billy Joel, Elton John, Peter Gabriel, Supertramp, Phil Collins, Chicago, Toto, Sting, Steven Wilson, Rod Stewart, Simply Red and many more…
We're writing early 2022 now and the album is "in da box" as they say. It took us 5 long years to get that steam boat into port! The album called "Living like a rainbow" is a quite unique project, made like recordings were made in the late 70's, early 80's, using REAL intruments all over, making up multiple layers and recording track by track in all kinds of places.
Over 30 talented musicians were involved and a BIG THANK YOU goes to every single one of them as well as to the amazing sound guys which are Georges Majerus @ Tritone studios Berdorf Luxembourg who is responsible for all the recordings, Tom Gatti @ Unison Studios Differdange Luxembourg who is responsible for all the fabulous mixes and Frederik Dejongh @ Jerboa Mastering Ghent Belgium who mastered the mastering. THANKS AGAIN!
The album will be released later this year and stay tuned for the singles which are about to be released sooooon!
MARC WELTER'S JOINT BUNCH ARE :
LUCA SALES : PIANO, COMPOSITION AND ARRANGEMENTS
Luca has a Master in Jazz-Piano from the Royal Conservatory of Brussels. He plays in various jazz-blues- and rock-bands in Luxembourg and Belgium
CÉDRIC GILIS : GUITAR
Cédric has a master in Jazz-Guitar he obtained at the Royal Conservatory of Brussels and he is director of the music school in Wiltz.
BEN WEIS : BASS
Ben has a Master in Jazz-Bass from the Royal Conservatory of Brussels. He plays in various jazz-blues- and rock-bands in Luxembourg and Belgium
NADJA PRANGE : KEYBOARDS AND VOCALS
Nadja went to the Conservatoire de Luxembourg to learn Piano and Oboe and is currently specializing in Hammond Organ. She plays and sings in various Pop-rock, Rock, Blues and Reggae bands in Luxembourg
PIT HUBERTY : DRUMS
Pit has a Master in Jazz-Drums from the Royal Conservatory of Brussels. He plays drums and Guitar in various jazz-blues- and rock-bands in Luxembourg and Belgium
GEORGES MAJERUS : SAXOPHONE
Georges owns the Tritone recording studios in Berdorf http://www.audio.lu and has been the heart and soul of the band « The Soulcookies » for a decade. He has been touring with various Pop-Rock bands for the past 25 years.
BORBÁLA JANITSEK : CELLO
Borbála is a professional Cellist and Cello-teacher at the conservatoire de Luxembourg and plays in different orchestras and chamber music setups
MARC WELTER : VOCALS, PIANO AND COMPOSITION
The additional musicians involved in the recordings for "LIVING LIKE A RAINBOW" are :
Quentin Debecq : Oboe and English Horn
Anik Schwall : Solo Cello
Ernie Hammes : Trumpet and horn scores
Laurent Pierre : Saxophone and horn scores
Laurent Lemaire : Trombone
Steve Boehm : Horn
Eric Durrer : Percussion
Jeff Herr : Percussion and Drums
Patrick Wilhelm : Strings arrangements and scores, orchestra conducting
Estro Armonico : string orchestra (13 people)
Stephany Ortega : Soprano and backing vocals
Irina Holzinger : Main Vocals on Let us be silly
I hope I don't forget anybody…. 😉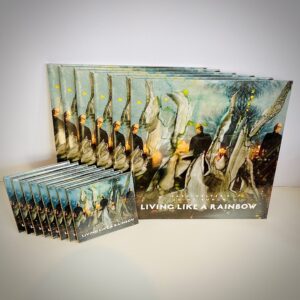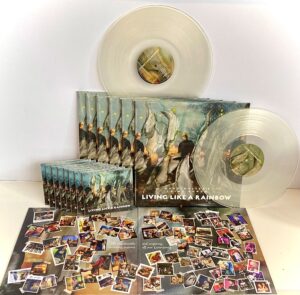 | | |
| --- | --- |
| Weight | N/A |
| Model | CD DIGIPACK, VINYL DOUBLE ALBUM 180gr |