Akubarik System
Reignite your passion for music.
Combining a performance that will grab your attention with looks that won't dominate your living space, Akubarik will reignite your passion for music.
Hearing is believing. Contact your local Linn Specialist today to arrange a personal listening session.
Selekt DSM: Classic Hub & Akubarik Speakers 47.740€
Selekt DSM: Edition Hub & Akubarik Speakers 53.640€
Akubarik Speakers
Behind the elegant curves of the Akubarik speakers are a host of powerful technologies derived from our flagship Klimax system, plus a few tricks of their own. The Akubarik's bass system fires deep, powerful and controlled bass while the 3K driver array ensures stunning clarity from mid and high frequencies. Integrated technologies work together to complete the package.
Power and intelligence built-in
Linn's innovative integrated speakers have power and intelligence built-in. A specially designed module, suspension-mounted on the back of each speaker, houses the best of our in-house technologies to optimise performance and give you a deeper insight into your music.
And while every room has its own effect on your music, Akubarik utilises our patented Space Optimisation technology to optimise performance based on the acoustic properties of your room and your desired speaker placement. Now you don't need lots of hi-fi separates to make great sound.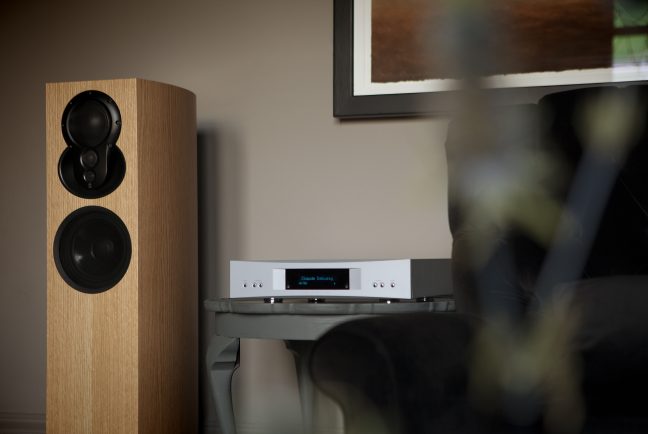 Akurate System Hub
Browse your digital music library, stream online music and video and hear movie soundtracks, all in exceptional detail. This Akurate network music player connects to virtually any music or audio source in your home and plays it flawlessly.
Housed in the specially designed acoustic enclosure, every source is screened and protected from noise, ensuring the speakers receive the highest quality signal, whether you're streaming your favourite playlist or connecting your turntable to one of the 13 inputs.
Perfect streaming to your speakers
Featuring Linn's streaming technology and a range of inputs to connect anything in your living room, every musical performance is perfectly transmitted to the speakers using Linn's Exakt Link lossless connection.
Akurate System Hub is designed for use in a Linn system with Exakt technology and is the perfect choice for those seeking an all-Linn performance solution from the outset.
Technical Specifications
Floorstanding speaker system with Exakt technology and Akurate electronics
| | |
| --- | --- |
| Features | |
| Phono Stage | Configurable to MM /MC / line level |
| Surround Compatible | Yes |
| Exakt | Yes |
| Space Optimisation | Space Optimisation+ |
| | |
| --- | --- |
| System Hub Specification | |
| Audio Formats | FLAC, Apple Lossless, WAV, MP3, WMA (except lossless), AIFF, AAC, OGG |
| Resolution | Up to 24-bit 192 kHz |
| Integrated Services | TIDAL, Qobuz, Spotify Connect, Airplay, Roon, TuneIn, Calm |
| HDMI Spec | HDMI 2.0 – Supports: 4k resolution @ 60 Hz 4;4;4 HDCP 2;2; HDR; ARC; CEC |
| Ethernet | x1 |
| Exakt Link | x4 |
| Construction | Aluminium |
| | |
| --- | --- |
| Inputs | |
| Toslink | x3 |
| SPDIF | x3 |
| HDMI 2.0 | x4 |
| Balanced XLR | x1 |
| RCA Phono | x2 |
| | |
| --- | --- |
| Outputs | |
| HDMI 2.0 | x1 |
| Toslink | x1 |
| SPDIF | x1 |
| | |
| --- | --- |
| Akubarik Speaker Specification | |
| Crossover | Exakt digital |
| Speaker Type | 5-way floorstanding |
| On-board Amps | 4x 100 W, 1 x 200 W |
| Bass System | Isobarik |
| | |
| --- | --- |
| Connections | |
| Exakt Link | x2 |
| Banana/Spade | None |
| | |
| --- | --- |
| Drive Units | |
| Super Tweeter | 13 mm silk dome |
| Tweeter | 25 mm PU dome |
| Midrange | 75 mm PU dome |
| Upper Bass | 165mm doped paper |
| Lower Bass | 200 mm servo x2 (Isobarik) |
| | |
| --- | --- |
| Finishes | |
| System Hub | Black or Silver |
| Speaker (Standard) | Black Ash, Rosenut, Walnut, Cherry, Oak, White |
| Speaker (High Gloss) | Piano Black, Rosenut, Walnut, Cherry, Oak, White |
| Speaker (Custom) | Yes – match any colour (high gloss) |
| | |
| --- | --- |
| Dimensions | |
| Akurate System Hub | |
| | |
| Width | 380 mm |
| Height | 91 mm |
| Depth | 380 mm |
| Weight | 5.8 kg |
| | |
| Akubarik Speakers | |
| | |
| Cabinet Volume | 44 litres |
| Width | 351 mm |
| Height | 1050 mm |
| Depth | 450 mm |
| Weight | 46.2 kg |
| | |
| --- | --- |
| Marques | |
| Model | Selekt DSM: Classic Hub & Akubarik Speakers, Selekt DSM: Edition Hub & Akubarik Speakers |