Class A driven output stage with 20-parallel push-pull power MOS-FETs
Large linear output 125 W / 8 ohms, 250 W / 4 ohms, 500 W / 2 ohms, 1,000 W / 1 ohm
Instrumentation amplifier principle
Current feedback amplification circuits
Balanced Remote Sensing
Double MCS+ circuit
High damping factor of 1,000
Speaker output protection
Highly reliable MOS-FET switches with no mechanical connections
Signal input section with a fully discrete configuration for low noise
Highly responsive large-scale bar graph power meter
Connecting two pairs of A-300 supports bi-amping and bridged mode connection
4-step gain control
High capacity 100,000 μF filtering capacitors
Large speaker terminals connected directly to protection circuitry
High-carbon cast iron insulator feet with superior damping characteristics
Power amplification section on circuit boards using glass cloth fluorocarbon resin
Aluminum hairline finish top plate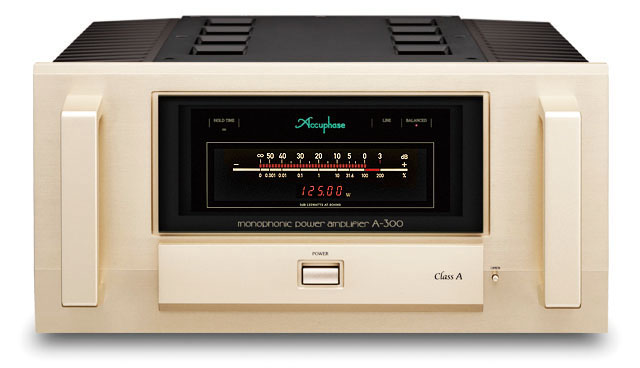 Created to mark our 50th anniversary, the A-300 redefines the ideal for Class A power amplifiers. 20-parallel push-pull power MOS-FETs in the output stage improves performance by 25% over conventional models with outputs of 125 W into 8 ohms, 250 W into 4 ohms, 500 W into 2 ohms, and 1,000 W into 1 ohm that set the stage for enviable constant-voltage drive. The fully discrete balanced input amplifier achieves a level of quietness that will make you forget you are using audio equipment for reproduction. The A-300's unmatched expressiveness lets you enjoy the most exquisite pieces from the world's greatest composers.